It doesn't matter how much time I spend planning and creating a piece of work, my favourite pieces are the ones which have been created from the afterthoughts, the discarded rejects and happy accidents. This is why most of my art journals are made using clean up sheets and practice papers. A lot of the time a background which may look totally chaotic, looks completely different when die cut and used in some unfinished journal page. A flat journal page may need a spot of colour to complete it and a box of off cuts and rejects is a good place to look.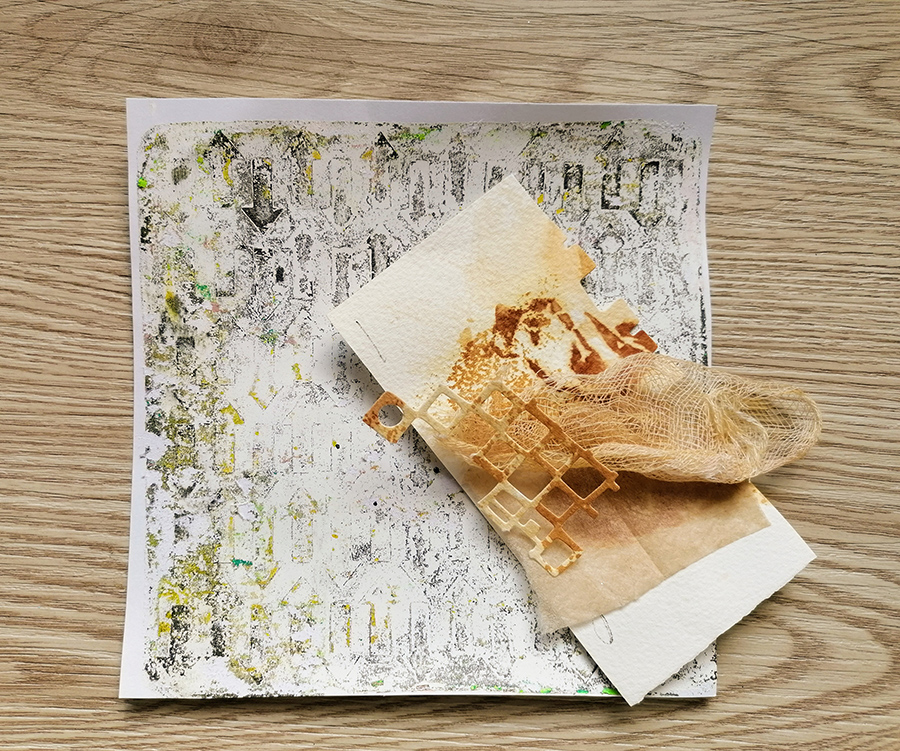 It was after a gel printing afternoon that the final prints to come off the plate were the clean up ghost prints. I always love these prints, they're grungy, dirty and contain many different colours mixed together in an old peeling paint sort of way.
Next to me on the table was a box of off cuts which I use for collages and on the top was this piece of watercolour card, stained from having a teabag left to sit on it. You never know when these things will come in handy I say! Underneath all of that I also had dry tea bags which are great for collages too. The piece of muslin, stained from Tea Dye ink from Ranger was the only planned piece as I'd used it earlier in the day for a project with Paper Pen and Plan.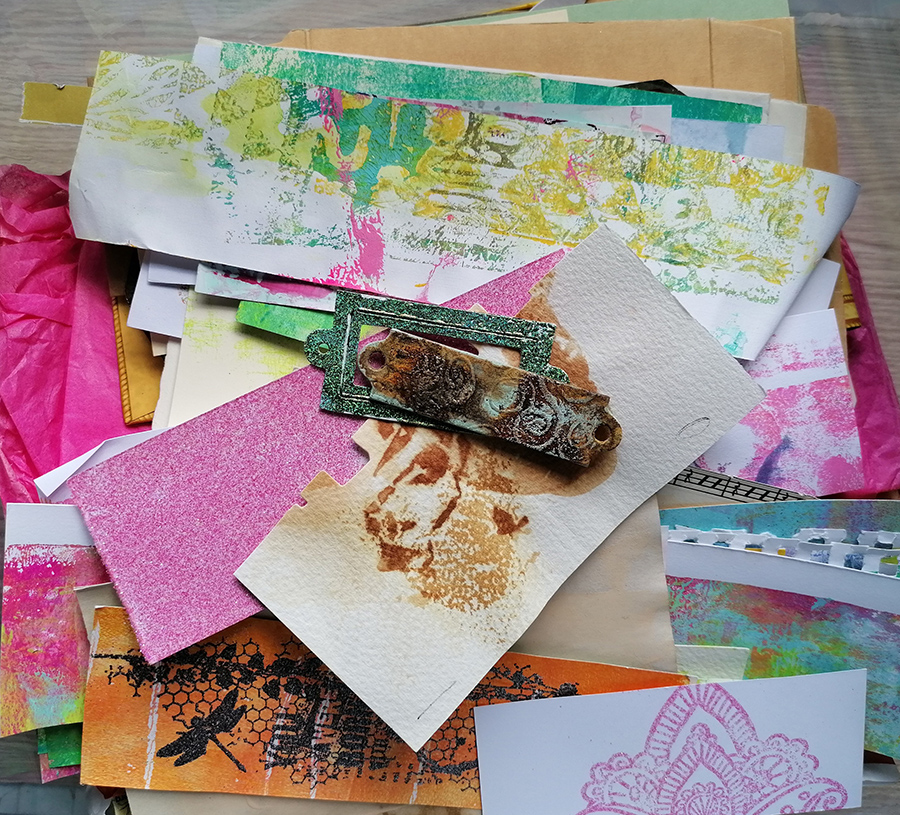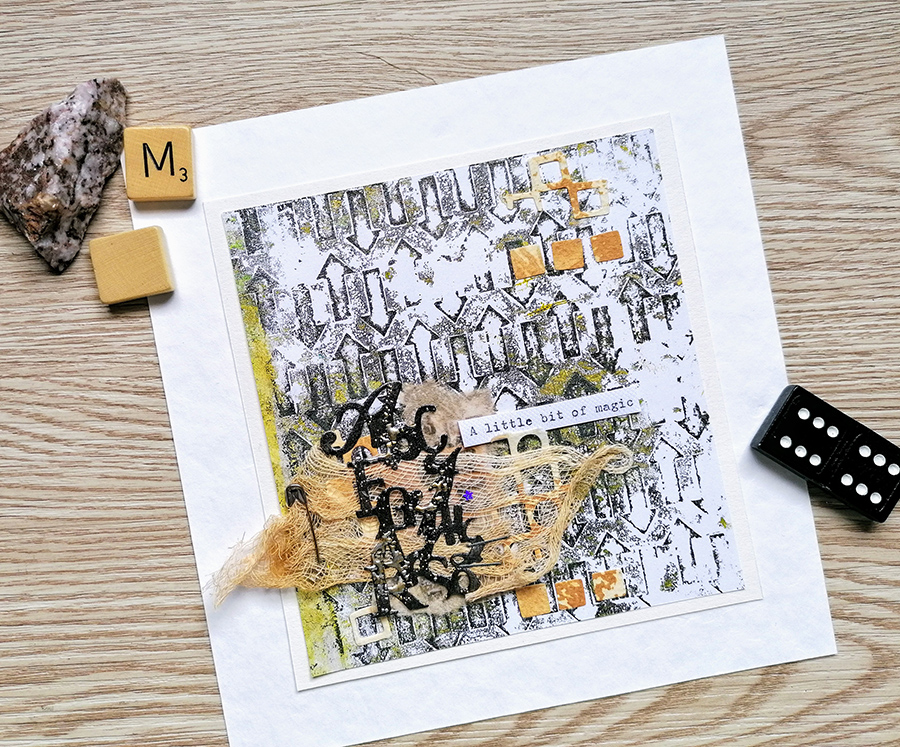 I die cut the tea stained card to use in a collage, tucking it under the tea bag and muslin. I didn't waste the little shapes which came out of the die cut either and used those to continue the colour on the rest of the background. I used black paint to cover the die cut letters and whilst this was wet sprinkled some Black Magic powder from WOW! in patches. I swear to you the safety pin has been sitting on my table for weeks now waiting to be used and literally caught my eye as I needed something to catch the muslin down!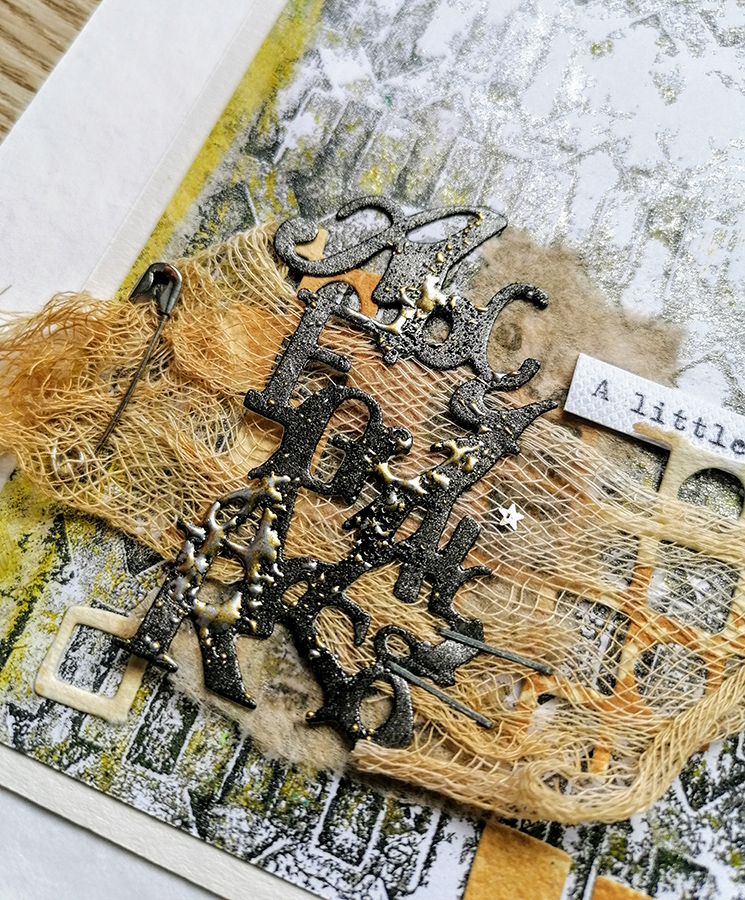 The craziest part about this whole process is that little star shining out from the centre of the collage. It wasn't planned and I only noticed it when taking these photos. You couldn't make it up!
I love mixed media.
Jaine x