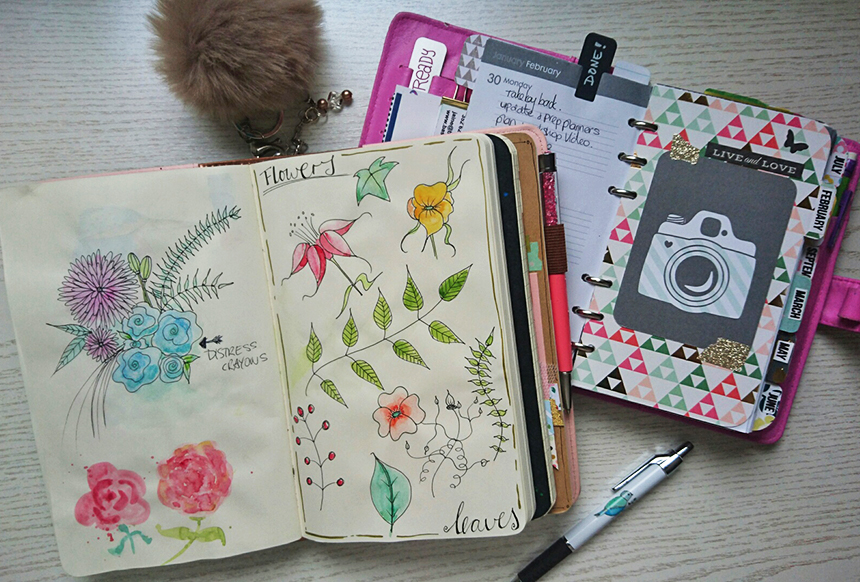 Most of this week has been about planning how to perfect on-line workshops and the logistics of it. A couple of weeksI ago I was involved in a car accident while I was on my way to teach a workshop locally. The road was icy and a car coming in the opposite direction lost control and went in to me. Luckily no one was hurt but the car was damaged beyond repair so we've been juggling one car between all of us. Anyway, so long as that's our only worry then we'll be fine, there are worse things in life. Anyway, the workshop had to be abandoned and I had to decide what to do and that's when I had the idea to make a video workshop this time. If it's successful I could use it as a way to create other little on-line mini workshops which will reach a wider audience and fill in gaps between actual ones. I'll keep you posted how it goes.
Meanwhile, I'm still filling my sketchbook and updating my planners and I'm also very pleased to say I've been asked to become part of the team of creatives at Paperpenandplan who sell all things planner related from their web site and etsy shop.

I look forward to sharing more from Paperpenandplan in the future.
Have a good weekend
Jaine x