Hello from my studio. It's Friday erm… now Monday (it's been one of those weeks), outside is hot and sticky but my basement studio is cool so I'm staying here to create in the shade.
In my studio I'm lucky to have a long artists table. Looking down at it right now I find it interesting that the far end where I do my die cutting, putting cards together and generally anything which needs to be done in a clean, paint free environment, is pristine and the other is messy, chaotic and painty. It's a bit like my garden, organized chaos I call it. I suppose that's what comes of being able to leave everything out all the time. I find I work better if I leave the paint and gel plate out all the time as I tend to come and go when I have a few moments. The other end is where I cut my prints and mount them to create backgrounds for cards.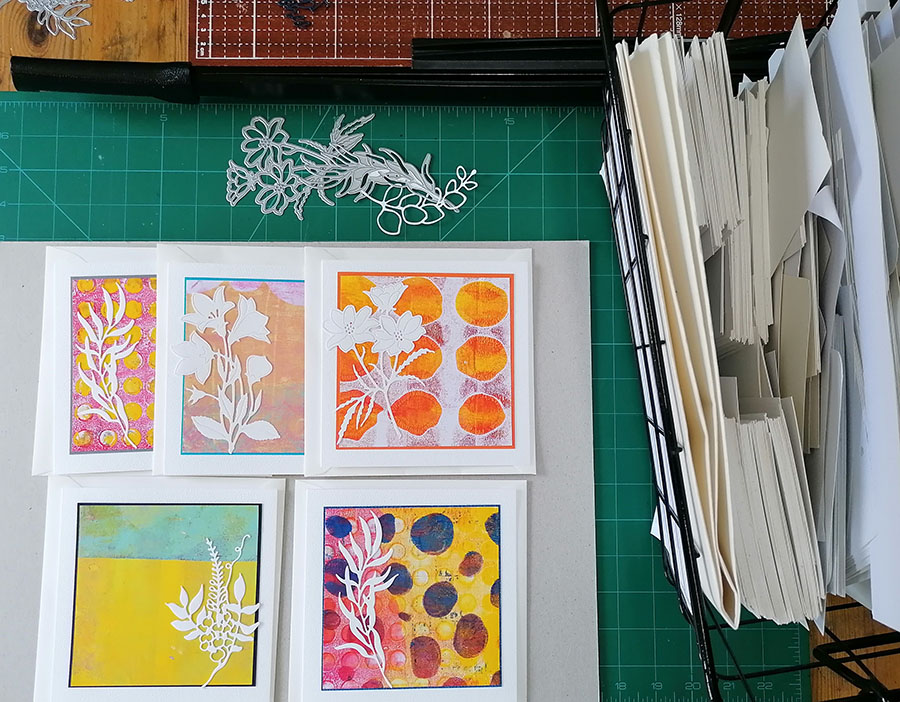 I love the clean look of crisp white card blanks and simple die cuts. From my basket of white card offcuts I cut delicate images which finish off these gel printed backgrounds nicely. They're like little pieces of abstract art I think. The fun is in creating these printed backgrounds, never knowing quite what I'll end up with, then cutting them up and layering them on a clean white card base. All they need now is a simple sentiment.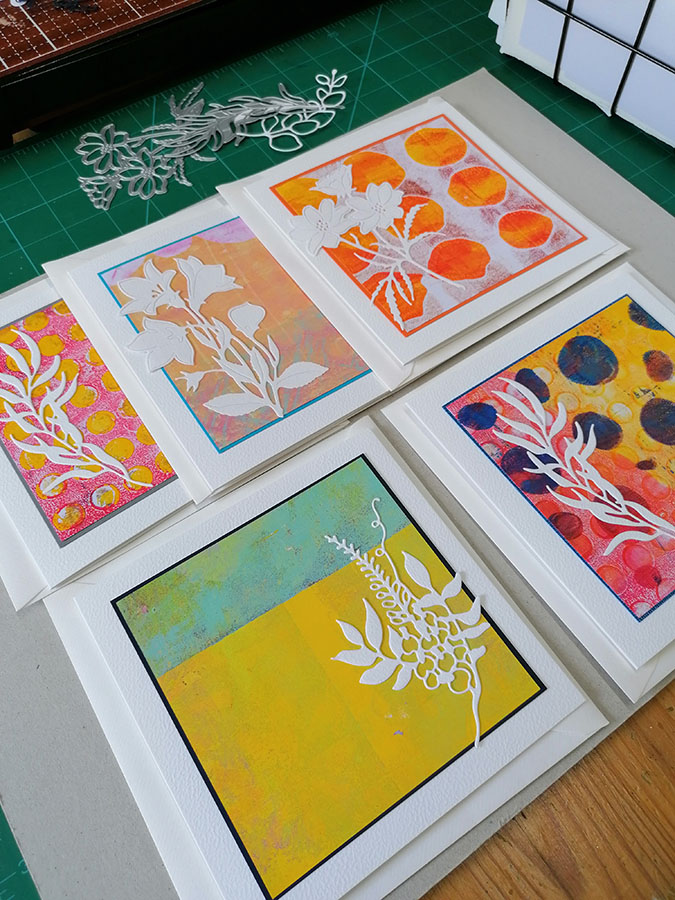 By contrast the other end of the table is where the messy stuff happens. Paint, gel plate and stencils, it's generally a bit of a mess. Occasionally there's a fight between the two spaces as I run out of drying room for my prints but so far it's not been an issue.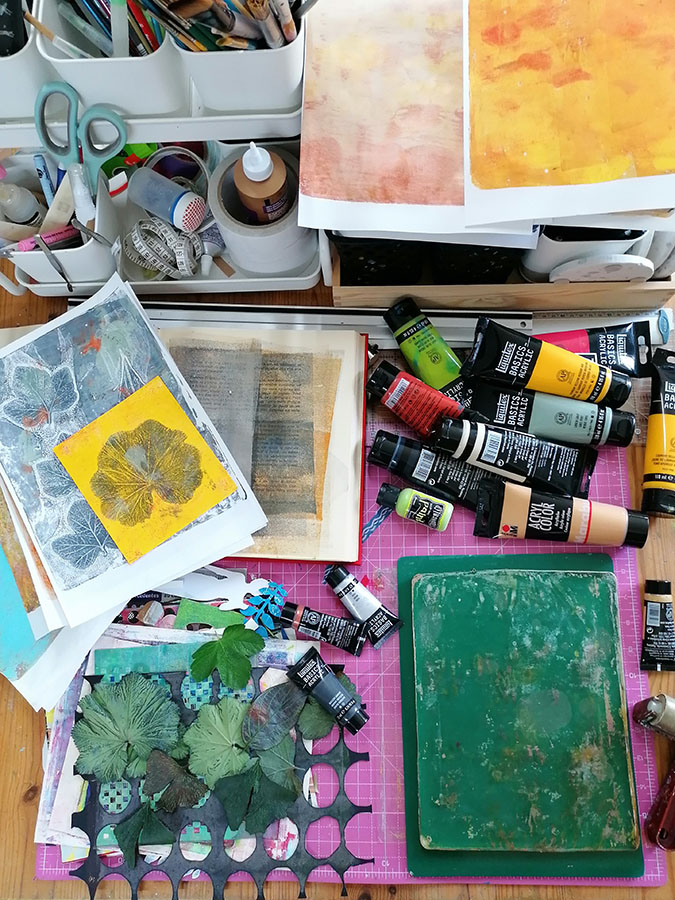 These cards are the product of my two sides, the messy mixed media side and the clean, contemporary and simple card side.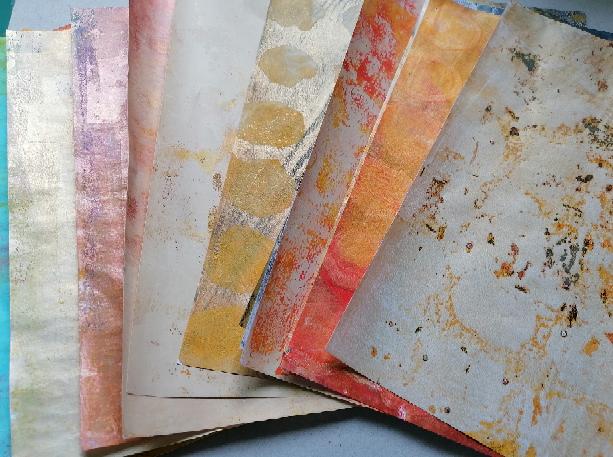 The cool thing is though, my favourite backgrounds are the ones which are simply my gel plate clean off sheets.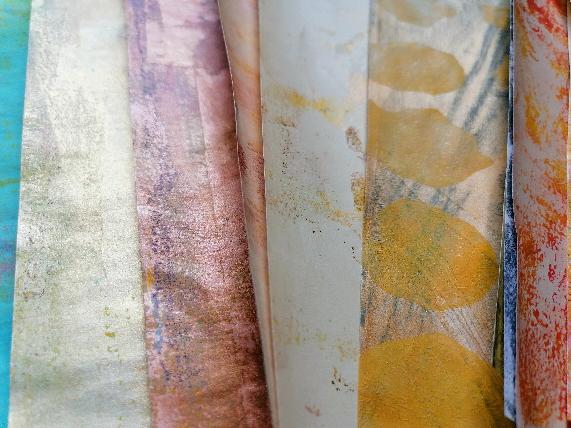 I mean look at this…especially when I use metallic paint to clean off the plate.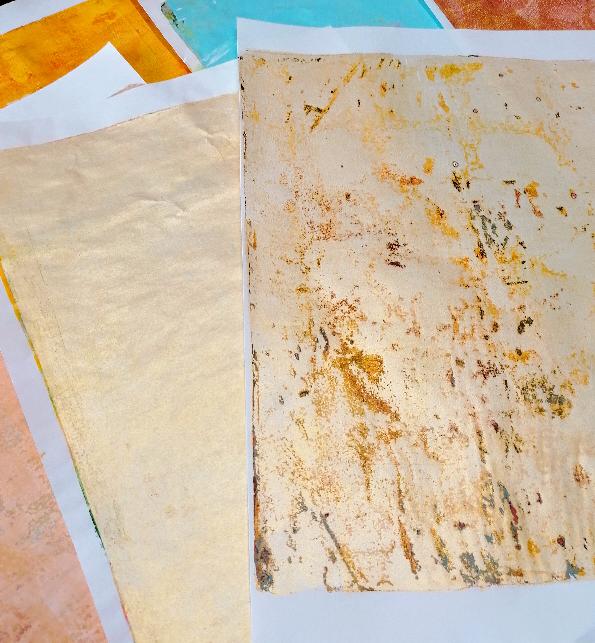 Have a good week
Jaine xx