Firstly, a very happy 2020 to everyone, I've had a tummy bug for the past 24 hours so not a great start to the year, but hey on the bright side I've lost those extra Christmas kilo's! There's always a bright side.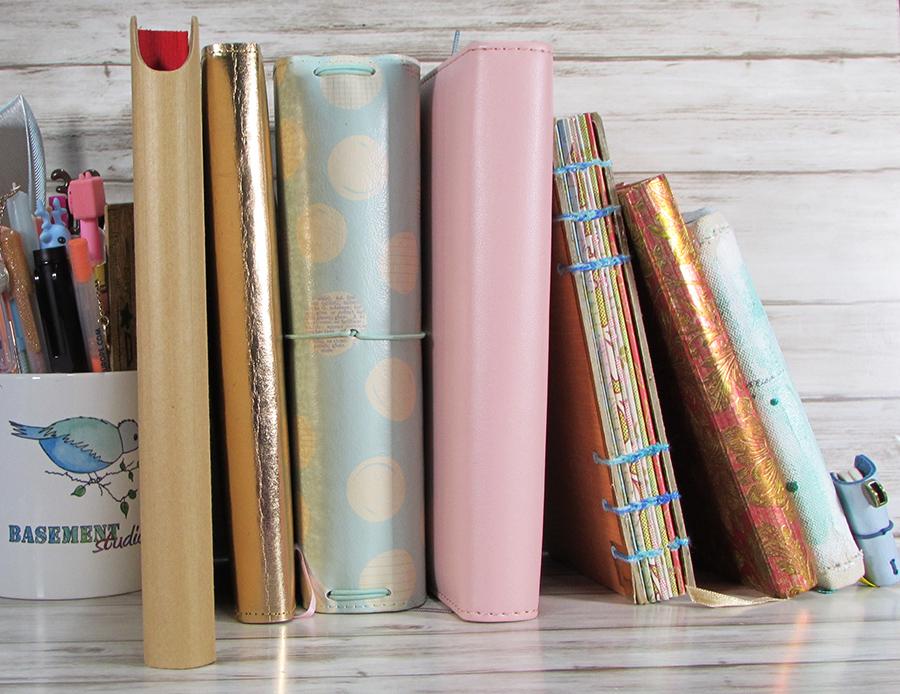 Remind me next Christmas not to bother with a December journal, even the smaller format didn't help. I failed dismally and it lies unfinished (unstarted actually) in my box of Christmas crafting bits. I've closed the lid and put the box away not to be opened until Christmas 2020! Some you win, some you loose, just as long as I learn from it!
I think maybe this was why I took a long hard look at my planners and decided what it was I really wanted out of them and for a while now I've had a longing to go back to using an art journal. I've missed it as it used to be such a big part of my life. So in the above photo, on the left is a brand new Dylusions square journal all ready to be inked and painted in. It'll probably take me a while to dirty the first page but once I have I'll be off like a rocket.
Next is a bullet journal for every day planning in a rose gold cover I made for it from some amazing paper fabric. The Simple Stories travelers notebook has two Moleskine sketchbooks in as the size is perfect for them. The pink case has a Basement Studio planner to keep me on track, and after that is a hand bound watercolour sketchbook for a bit of watercolour play as the Moleskine isn't really up to the job. Next comes my calligraphy practice book. The last two books are an A6 bullet journal in a hand made cover for carrying around in my bag and a brand new itty bitty mini travelers notebook just because everyone should have one!
I've started the every day bullet journal and had the chance to use my Hearts stencil I designed for Paper Pen and Plan and their January Kit Box. I created this graphic design by simply masking with washi tape and using Distress inks through the stencil. I love how it worked out from such a simple design.
Well that's all from me today, have a lovely weekend and I'll be back soon trying to break out of my usual colour comfort zone!
Jaine xx